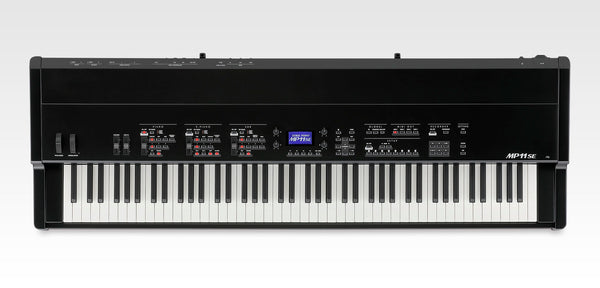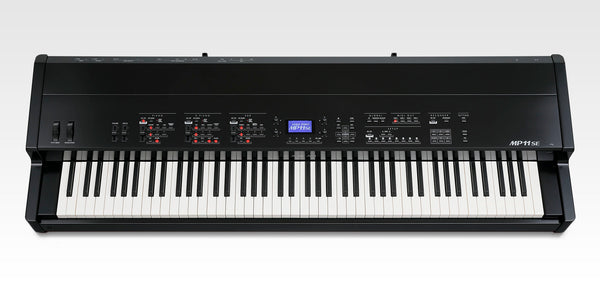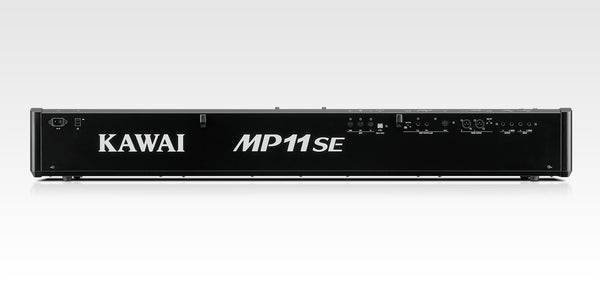 PROMOTION
Free Dust Cover, U-Shaped Keyboard Stand, Behringer BH470 Headphone and Piano Bench
Limited 1 Year Warranty, Extendable to 3 Years upon Registration
Free Shipping Peninsular Malaysia
Subject to stock availability and We reserve the right to change the model if necessary**
Kawai MP11SE Digital Piano (MP-11-SE)
The most authentic keyboard, the most realistic sound, and the most articulate control. While others may claim to be 'the best', only one can be considered the most genuine.

MP11SE: the stage piano for music professionals who do not accept compromise. 
HIGHLIGHTS
■  Class-leading Grand Feel wooden-key keyboard action
■  Stunning SK-EX, SK-5, and EX acoustic grand piano sounds
■  Strong selection of realistic electric pianos and other sounds
■  Wide variety of Virtual Technician sound editing parameters
■  Intuitive panel with independent sound sections and effects
■  Powerful 4-channel MIDI master controller functions
■  1/4" and XLR outputs, 1/4" inputs with Line In level fader
■  Brand new GFP-3 triple pedal unit manufactured by Kawai
■  Sturdy metal chassis with black polish wooden side arms
WEBSITE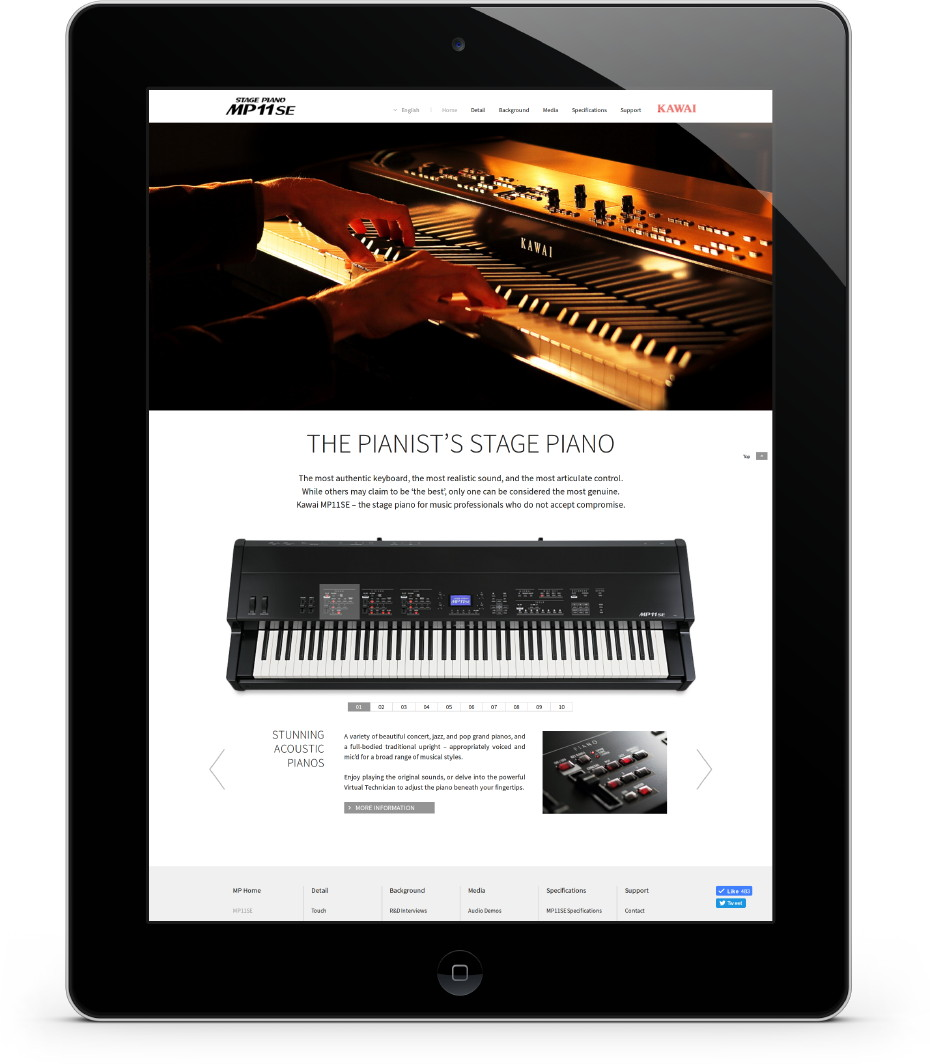 KawaiMP.com – official website
The official KawaiMP.com website is the best source of information about the MP11SE online, with detailed explanations about the instrument's wide range of features, background history and developer interviews, audio and video demos, software update, documentation, and driver downloads, and useful support links.
SPECIFICATIONS
Keyboard
・ Grand Feel action
 - 88 wooden keys
 - Grade-weighted hammers
 - Ivory Touch white key surfaces
 - Let-off simulation
 - Triple sensor key detection
 - Counterweights
Pedal
・ GFP-3 triple pedal unit
 - Damper (with half-pedal support)
 - Soft
 - Sostenuto

* all pedals support progressive pedalling
Piano Sound
・ Harmonic Imaging XL (HI-XL)
 - 88-key stereo sampling
 - SK-EX, SK-5, EX recording
 - 256 note maximum polyphony
Piano Resonance
- Damper Resonance
- String Resonance
- Undamped String Resonance
Piano Adjustment
・Virtual Technician (22 parameters)
 - Touch Curve (incl. User Touch Curve)
 - Voicing
 - Damper Resonance
 - Damper Noise
 - String Resonance
 - Undamped String Resonance
 - Key-off Effect
 - Fall-back Noise
 - Hammer Delay
 - Topboard Simulation
 - Decay Time
 - Minimum Touch
 - Stretch Tuning (incl. 88-key User Tuning)
 - Temperament (incl. User Temperament)
 - Temperament Key
 - Key Volume (incl. 88-key User Key Volume)
 - Half-Pedal Adjust
 - Soft Pedal Depth

 - Brilliance
 - Stereo Width
 - Key-off Noise (E.Piano)
 - Key-off Delay (E.Piano)
No. of Sounds
40 voices
Reverb
6 types
Brilliance
✔
Other Effects
129 types
Speakers
-
Output Power
-
Headphone Enhancements
-
Display
128 x 64 pixel LCD with backlight
Key Cover
-
Music Rest
Detachable type (included)
Dimensions
Width
138 cm (54 1/3")
Depth
45.5 cm (18")
Height
19 cm (7 1/2") [music rest detached]
Weight
34 kg (74 lbs.)
Available Finishes
Gloss Black
Basic Functions
Dual
Split
Transpose
Tuning
Registration
Internal Songs
Sound Demo
-
Piano Music
-
Concert Magic
-
Lesson Songs
-
Internal Recorder
Total Memory
approximately 90,000 notes
No. of Songs
10 songs
Parts
1 part
Metronome
Time Signatures
1/4, 2/4, 3/4, 4/4, 5/4, 3/8, 6/8, 7/8, 9/8, 12/8
Drum Rhythms
100 patterns
Bluetooth *
-
USB Audio Recorder
Record/Playback
MP3
WAV
Other Functions
Overdubbing
Line In recording
App Functions
-
Connector Jacks
Headphone
1 x 1/4" Stereo jack
MIDI
MIDI IN, MIDI OUT, MIDI THRU

Line Out
1/4" L/MONO, R [unbalanced]
Line In
1/4" L/MONO, R [unbalanced]
USB to Host
✔
USB to Device
✔
Others
XLR FIXED (L, R) [balanced] + ground lift switch
FSW
DAMPER/SOSTENUTO/SOFT (for GFP-3)
EXP + EXP type switch
Power Consumption
20 W
Power
Power cable
Bench
-
Headphones
-
Sheet Music
-
Others
Warranty Card *
Owner's Manual
Music Rest
GFP-3 triple pedal unit (with half-pedal support)
* Depending on market location.Specifications are subject to change without notice.